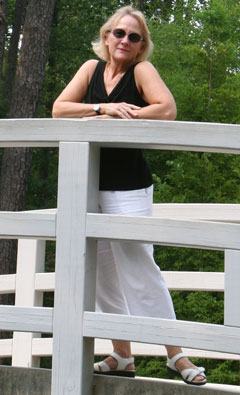 I work in many media: oil, watercolor, and casein painting; drawing; and etching and block printing. The subject matter often determines the medium chosen. Some subjects seem to call out to me to be done one way over another. For example, black and white etchings demand strong patterns of light and shadow, whereas a canyon sunrise cannot be done justice unless it is done in color .
My drive is to reflect the beauty I see in the world, whether it be the light sparkling off the water, the cool violets of the shadows of the rocks, or the sunlight shining through a leaf. About three years age, I began working on a series on passages and pathways. The theme struck me on several levels. I began to see the theme in a more abstract level. A passage could be a stage of life, a journey of flowing water, a trail of light, even the progress of new construction in a city. My fascination with this subject matter has more to do with the possibilities that lie beyond the passageway rather than the portal itself.
I am a signature member of the Virginia Watercolor Society as well as its 2005-2006 President. I am also a member of the Shenandoah Valley Art Center, the Beverley Street Studio School, the Central Virginia Watercolor Guild, and the Staunton- Augusta Art Center. My paintings and prints can be seen at Co-ART Gallery in the Beverley Gallery at 22 West Beverley Street, Staunton, Va. 24401. My works are in many private and corporate collections in the U.S. and Europe.
Awards and Honors:
2014- Abe M. Schewel Award - Lynchburg, Va Art Festival
2013- Purchase Award, Virginia Mennonite Retirement Community
2013- Honorable Mention, Virginia Mennonite Retirement Community
2012- Scott Insurance Award, Lynchburg, Va Art festival
2012- Best Landscape of Bath or Highland County, Bath Cty, Va Art Show
2009,2008 - Honorable Mention, Bath County, Va. Art Show
2009- Clara Eidman Eaver Award, Nelson Gallery, Lexington, Va
2008- Award of Merit, Virginia Watercolor Exhibition
2008- Abe M. Schewel award, Lynchburg, Va Art Festival
2007- Honorable mention, Bath Co, Va Art Show
2005- President of Virginia Watercolor Society, 2005-2006
2004- 1st prize Watercolor, Bath County Art Show
2004- Design Source Award, Virginia Mennonite Retirement Community
2003- Award of Distinction, Shenandoah Valley Art Center
2002- Progress Printing Award, Lynchburg Art Festival
2001- Pheasant Eye Award, Lynchburg Art Festival
2004, 2001, 2000, 1999- Honorable Mention, Bath County Art Show